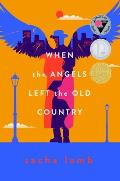 Recommended to me by: Soph and Becca.
This is a book about an angel and a demon (and some humans). A Jewish angel, a Jewish demon, and Jewish queer humans, emigrating by ship from a tiny shtetl in Poland to New York.
The angel is obviously, essentially Good, and at the same time it can be oblivious, and its actions can have evil effects. The demon is selfish and encourages wickedness, and its actions can have ultimately good effects. They are conflicted within themselves, argue endlessly with each other, and love and need each other deeply. This complexity and debate around questions of good and evil, intent and action, are quintessentially Jewish, in contrast to a single clear polarizing answer.
Of course some immigrants were queer, and of course some of them would fall in love with each other. As a Jewish queer human myself, it was surprising and delightful to feel recognized in the world of this book, permeated with Yiddish phrases and Jewish mysticism.
The prose is a pleasure to read, tumbling from one scene to the next and only occasionally allowing the uncertainty and danger to ratchet too high. The outcome is satisfying neat, even if full repentance is a little unexpected.
Highly recommended!