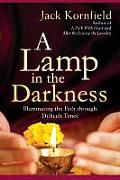 I remember a feeling of exclusion when I read Kornfield's The Wise Heart, so I read this one warily, and indeed, it did not resonate with me.
Perhaps it's a target market problem. The writing is clear and kind and detailed, aimed at someone who has never thought about these issues before. I've been meditating daily for 9 years. I'm searching for spiritual assistance at a deeper level than (paraphrased), "Yup, we all have problems. Let's sit with them awhile."
The writing is gender-neutral and does not focus on class or race. In only one quote is "man" on the Way, but that gender exclusion is not footnoted. Subtly, through the examples and stories, I get the impression that Kornfield is speaking primarily to other white men like himself, wealthy enough to see the Dalai Lama's personal physician for an ailment.
I feel uneasy when I see "My teacher Sri Nisargadatta explained …" and "My teacher Ajahn Chah said …" mixed with quotes from the Dalai Lama and Black Elk. I'd like to learn about a teacher's culture and context in detail rather than hearing a mix of pull quotes from around the world.
I also recognized several of the anecdotes from the prior book.
I might have tried the included CD of meditations, but a previous library borrower had replaced it with an old Loreena McKennitt CD.