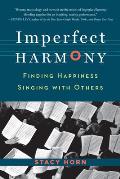 Subtitle: Finding Happiness Singing with Others
This book answered exactly the question I had.  What is it about singing that is so compelling for me?  Do other people have the same experience?
Stacy Horn expertly blends personal experience, choir history, music history, and contemporary events into a compelling narrative about her membership in the all-volunteer Choral Society of Grace Church in New York. Each chapter focuses on a musical piece, which I thought would be dull, but she brings carefully researched music history to sparkling life, woven together with the other themes.
She forthrightly acknowledges sexism in choir membership and racism in the Chatham Street Chapel Riot, where a white choir chased out a Black assembly to celebrate Emancipation Day – and then four Black men were arrested. She doesn't point out that all the composers she highlights are men (except Britlin Losee), and the choir leadership is all men, but she does include women's voices talking about what singing means to them. Despite being affiliated with Grace Church and performing religious music for Christmas concerts, the choir members have a mix of religions and beliefs.
Singing brings connection. When we sing the same sounds, our brains are in sync. When people sing different parts near each other, their voices mingle in the air and reach warmly back to the singers. Interviewed singers repeatedly speak of choir membership as a balm for loneliness and a source of community. Singing enlivens the body and spirit with joy even with sorrowful songs
Highly recommended if you sing, or if you just want to learn a little more about singing, or music history, or the Grace Church Choral Society.
Book excerpt: Science says singing makes us happier
Book excerpt: What singing in a choir teaches us about teamwork
Youtube videos of all the musical pieces in the book