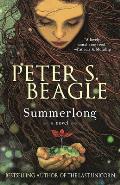 Recommended to me by: It's by Peter Beagle!
This book is about relationships between real, complicated people, enfolded in Peter Beagle's usual shining language and richly detailed settings, this time in Seattle. Like the people in his older book "The Folk of the Air," they interact with the numinous, and suffer for it. I got mad and almost stopped reading when the people hurt each other, and I'm still muttering about the ending. The book as a whole is wonderful.
Peter Beagle's essay about writing the book.