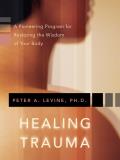 Subtitle: A Pioneering Program for Restoring the Wisdom of Your Body
Recommended to me by: a client
This is a practical, applied introduction to Peter Levine's Somatic Experiencing work. After an introductory summary, he presents 12 exercises, starting with body awareness and grounding, continuing with awareness of felt senses in the body, and then moving into completion of fight, flight, and freeze responses. He includes orienting to a sense of normalcy and balance that may be new and unfamiliar. The approach is gentle, accepting, and warm.
A CD is included where he reads the exercises. It's not really a guided meditation, because, for example, he says, "Tap your left hand … (notice, etc.), okay now move through the rest of the body."
The exercises aren't quite in the order I would present them, since starting with body awareness might be challenging for many people. I would start with grounding and resources first.
Recommended for people who want to tools to work with their own trauma, and/or who want to understand the nuts and bolts of Somatic Experiencing.