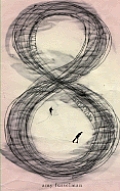 Recommended to me by: a client
This is a book about healing, rather than a book about trauma.
Amy Fusselman layers incidents with "her pedophile" among meditations about the nature of time, parenting, relationships, healing, bodywork, therapy, New York City cab rides, and writing in a coffee shop when celebrities walk by. She loops among the topics gracefully, like the figure skater she was as a girl.
Recommended for one person's perspective on the effects of childhood sexual abuse, putting it in its (admittedly important) place among the rest of the events in a life. Recommended for touching on the topic of abuse forthrightly, and then going on to something else, rather than sinking into it more and more deeply. This is how healing works.