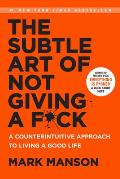 Subtitle: A Counterintuitive Approach to Living a Good Life
Recommended to me by: a client
I liked the message of the initial chapters, although delivered in a more crass way than I prefer. Rather than avoiding negative experiences and seeking positive experiences, pause and accept what you have and who you are. I agree that thinking that we should be having a more positive experience, and that we could be if only we were doing something better or differently, is a setup for misery.
Instead of trying to avoid problems, try for better problems. I had gotten a sense of this from "Artist's Way," that becoming more skilled and successful just means the challenges get bigger. We can seek challenges we enjoy, rather than trying to avoid challenges altogether.
Our attitude toward failure and rejection determines their impact on us. When we step back and look at our deepest values and what we want in our lives, we can weather negative events more easily. Choose what you give energy to, what you "give a fuck about."
And then, there is a chapter endorsing False Memory Syndrome and saying we should trust ourselves less, which bounced me right out of the book.
Clearly, vulnerable survivors are not the target market for this book. Some of the advice is clearly aimed at young privileged men: stop traveling and having one-night stands so much and settle down in one place, with one woman.
This book reminds me why representation is so important. I'm glad I have the option to read books by people who include my perspective, and the perspectives of other vulnerable people.