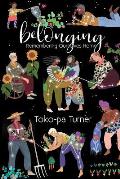 Subtitle: Remembering Ourselves Home
The gorgeous, inclusive cover and introduction/dedication to this book grabbed me.
For the rebels and the misfits, the black sheep and the outsiders. For the refugees, the orphans, the scapegoats, and the weirdos. For the uprooted, the abandoned, the shunned and invisible ones.

May you recognize with increasing vividness that you know what you know.

May you give up your allegiances to self-doubt, meekness, and hesitation.

May you be willing to be unlikeable, and in the process be utterly loved.

May you be impervious to the wrongful projections of others, and may you deliver your disagreements with precision and grace.

May you see, with the consummate clarity of nature moving through you, that your voice is not only necessary, but desperately needed to sing us out of this muddle.

May you feel shored up, supported, entwined, and reassured as you offer yourself and your gifts to the world.

May you know for certain that even as you stand by yourself, you are not alone.
With poetic language and myths and Jungian dreamwork, Toko-pa Turner tells her own story of not-belonging and weaves a wider net of strategies to belong better. There is an Outcast archetype who can visit our dreams, and whose patterns we can follow. We can open our hearts to our own pain, and be willing to be more vulnerable ("woundable") to others.
Her Black Sheep Gospel resonated for me. Adopt your rejected qualities. Venerate your too-muchness. Send out your signals of originality. Go it alone until you are alone with others.
In a lot of this book, I heard, "Try harder! Work harder! Get out of your own way!" While that may be valid advice, I've tried a lot of things it advises. It does also touch on fallow time and letting go of connections that no longer work well.
The author is writing from a place when things are going well for her, so she describes her steps in that direction and then prescribes them for others. While I'm glad she landed where she did, I'm not sure it's so deterministic as all that. She talks both about divine guidance and about taking action on your own behalf. Yes, when things go well, it looks like a mix of those things led you there. A mix of those things can lead people to any number of places, not all of them positive.
The book was published in 2017, so she does acknowledge increasing environmental and political disaster throughout the book. She advises living closer to the earth, returning to more indigenous ways, without noting that all 7.6 billion of us can't do that at the same time.
Her description of the problem resonated with me. Her solutions, not as much. Recommended especially if you already do dreamwork.