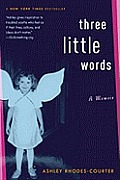 22 year old Ashley Rhodes-Courter's articulate, harrowing memoir of her childhood in the Florida foster care system.
I read it in one sitting, pausing to cry in a few places. The three little words aren't what you think. She has a journalist's eye for detail and a poet's eye for intensity, conveying a child's confusion without confusing the reader.
I learned about the Florida foster care system, about the power of caseworkers and and the mercy of Guardians ad litem, about both loving and abusive foster parents, and about one child's path of survival through it all. Through Ashley Rhodes-Courter's story, I connected with my own childhood longing for rescue and warmth, although I grew up in an "intact" family.