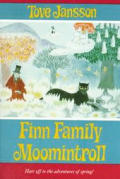 Recommended to me by: Ursula Le Guin, while reviewing "The True Deceiver"
I stumbled across Finn Family Moomintroll in my elementary school's library as a child, and didn't really know what to make of it, but loved the image of the snow falling, and the creatures curling up safely for the winter.
Re-reading it now, I still love the first chapter where everyone is settling in to sleep for the winter. I also noticed and appreciated this unusual beginning which seems like an ending.
"Everyone" includes Moomintroll, a small endearing creature with a round belly and a big nose, his parents Moominmamma and Moominpappa, and a varied assortment of long-term visitors. When spring comes, they have adventures that always turn out well, in part because of their kindness and positive assumptions about everyone they meet.
The complex household personalities and relationships shine throughout the stories, lightly shown in every interaction. Aside from the occasional scuffle over personal agendas, they show each other great care and tolerance for quirkiness, demonstrating the best of communal living.
The book was first published in Finland in 1948, and was translated into English in 1958. For the most part it has aged beautifully, but its treatment of females is archaic. Moominmamma is primarily concerned with feeding everyone and with keeping track of her handbag, which contains "dry socks and sweets and string and tummy-powder and so on." The only other female character, the Snork Maiden, does not have her own name (she is the Snork's sister), and her main activities are flirting with Moomintroll, and getting emotional and irrational about her appearance.
On the positive side, the Hemulen is male, but wears a dress, and no one has a problem with that. Interestingly, I clearly remembered the Hemulen as female from reading the book as a child.
Perhaps my memory gave more weight to the author's detailed pen and ink illustrations than the pronouns. The map of Moomin Valley at the beginning shows tiny objects and events from each chapter's adventures. The drawings throughout the book complement the multi-sensory descriptions in the text.
I'm looking forward to reading "The True Deceiver," which is Tove Jansson's just-published book for adults. I'm hoping that in the intervening years she has changed how she writes about women.