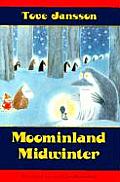 Recommended to me by: childhood memories
After reading Finn Family Moomintroll recently, I was inspired to seek out Moominland Midwinter, which I also vaguely remembered from childhood.
It's a quick read, and contrasts quite a bit with the earlier book. The mood is bleaker, as befits a northern winter, and the relationships between characters are more superficial and troubled. The kindness is still there, even when they don't understand each other very well.
I am relieved to report that there are several strong, independent female characters in this book, including brave little My, careening about on skis.
My favorite character is the troll ancestor, who holes up in the porcelain stove and sends the occasional flake of soot down as commentary.