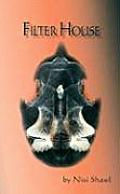 Recommended to me by: emilytheslayer on LiveJournal because Nisi Shawl is one of WisCon's 2011 guests of honor
"Filter House" is a collection of fantasy and science fiction short stories, written with exquisite integrity. I felt safe in the author's hands as she portrays people of color, people of size, people with disabilities and other marginalized groups as whole, valuable people (what a thought!), without erasing the details of their experiences.
Some of the stories address dystopian futures where water is in short supply, reminding me of James Tiptree's dystopian short stories.  Other stories playfully explore what it's like to be a scholarly princess befriended by a marauding dragon, or to practice trance-possession on another planet.
Shawl's other published book is "Writing the Other: A Practical Approach," and I look forward to reading it as soon as I can track down a copy.