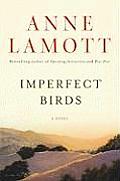 Based on the title, I thought this would be a sequel to Lamott's Bird by Bird, about the process of writing. Instead, it is a novel about teenage angst, drug-use, manipulation, and lies, and adult anxiety, denial, and tense sobriety. In each encounter, characters are described by weight and attractiveness, as if that's what matters.
I kept putting the book down because the casual lying and drug-use got almost physically on my nerves, and picking it up again because I'd come to care about the characters in spite of myself. I did skip a chunk in the middle. In the end, there is a small hope for authenticity and responsibility.
I don't know whether the narcissism in this book is wildly exaggerated or terrifyingly realistic. Either way, I don't want to read about it.