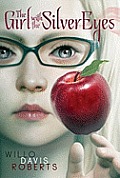 Recommended to me by: an adult who loved it as a child
This book was published in 1980, back when I was in its target age group of pre-teen kids. I don't know what I would have thought of it then, but it didn't go over well in 2010.
Katie, age 9, has silver eyes, telekinetic powers, and an unchildlike self-control. The book does some exploration of what it's like to be different and lonely. Mainly, though, Katie uses her powers to sneakily hurt bullies. In other words, she behaves like a bully herself. This is neither acknowledged nor discussed in the book.
One chapter was so offensive it knocked me right out of the story. Katie got rid of one babysitter, and her next babysitter is "grossly fat" and the author indulges in every possible negative stereotype about fat people. In addition to being blatantly offensive, it's bad writing – it reads as if she needed an extra chapter and pulled out a cardboard stereotype instead of doing the work of creating a nuanced secondary character.
I would not recommend this book to readers of any age.