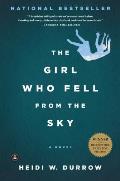 I wanted to love and learn from this book, but there were too many jarring inconsistencies with my own knowledge.
As a child, Rachel falls 9 stories and her only lasting injury is to the hearing in one ear. With everything I know about physical and psychological trauma, I wanted at least one sentence explaining that one. Even her hearing disability is only mentioned in passing, as if an editor said, "Hey, whatever happened to that?"
So much trauma and loss, some of it arbitrary and unlikely, and no one in the book grieves. Some of the characters drink, but no one talks about grieving.
I live very near where this book is set, walking distance from Irving Park and its tennis courts, biking distance from Laurelhurst park and its duck pond.
Rachel's grandma neglects her garden, and the only green is under the bird feeder from fallen seeds. This is Portland. Some plants may die, but any unattended earth is guaranteed to be overrun by verdant weeds.
I wanted to learn about being biracial in Portland in 1982, about racism and anti-racism and one girl's experience. I wish I trusted the information I received.