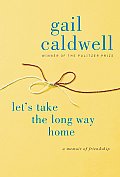 Subtitle: a memoir of friendship
Recommended to me by: Courtney on the Feministing blog
I loved this book. I cried at the beginning, smiled in the middle, and sighed at the end.
Gail Caldwell describes first her grief at her best friend Caroline Knapp's death, and then their daily joys together while she was alive. They trained their big dogs together, rowed on the Charles River together, and most of all, talked about everything, including both their writing careers, and both their past struggles with alcohol.
The writing is compressed, detailed, elegant, meandering across years within a page. Trying to find a representative sample, I ended up re-reading large swathes of the book. Here, I opened the book at random:
"I'm afraid that no one will ever love me again." He leaned toward me with a smile of great kindness on his face, his hands clasped in front of him. "Don't you know?" he asked gently. "The flaw is the thing we love."
This book is about intimacy, connection, grief, and love. Go read it.