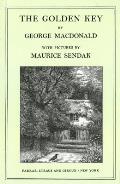 Illustrated by: Maurice Sendak
Recommended to me by: rushthatspeaks
In the afterword, written December 1966, W. H. Auden says, "To me, George MacDonald's most extraordinary, and precious, gift is his ability, in all his stories, to create an atmosphere of goodness about which there is nothing phony or moralistic."
My experience of this brief book was the opposite. I saw goodness equated with whiteness several times, and also with beauty. I saw a moralistic and wholly unnecessary aside about cleanliness.
In the (lovely) illustrations, the girl is always leaning on someone or being led or rescued, where the boy is alone or leading or standing sturdily as he talks with someone. The only exception is the last image, where she sits waiting and he approaches.
For all of that it is a whimsical, lilting story, quickly read, with deeper themes of long seeking, endurance, and transformation.