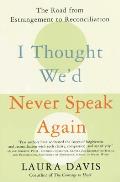 Subtitle: The Road from Estrangement to Reconciliation
Recommended to me by: Laura Davis's website
Laura Davis is co-author of the classic book about healing from incest, "The Courage to Heal."
This book is written with compassionate awareness that not all stories have happy endings and not all estrangements can be reconciled. Nevertheless, I cried while reading it, for all the estrangements I have been unable to reconcile, and for all the reconciliations that turned out to be grave mistakes, and for all the fears that I should have been able to do it all better.
It has concrete suggestions for how to evaluate the possibility of reconciliation and take steps toward it, as well as a variety of gritty, beautiful stories about others' attempts and successes. Davis' reconciliation with her mother is woven through the book.
Recommended, if you have the time and energy to work through the feelings it might bring up.