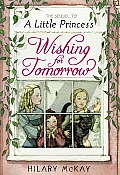 Subtitle: A sequel to A Little Princess
Recommended to me by: Badgerbag
My copy of A Little Princess (yes, I still have it) is dated 1982, but I think I read it before then from the library. As a young girl grieving, surviving and in need of rescue, I connected deeply with the story of young Sara Crewe and the maid Becky grieving, surviving and being rescued.
This sequel, written not by Frances Hodgson Burnett but by Hilary McKay 100 years later, follows the secondary characters at Miss Minchins Select Seminary for Girls after Sara's departure. It is a much lighter wish-fulfillment book, plot driven, with one note characters. We are told about their emotions, but they don't resonate.
The new maid, Alice, takes no nonsense from her employers and refuses to live in the attic, not-so-subtly implying that Becky just needed to stand up for herself. Of course, Alice is in London to "see the sights" and has a loving family to return to if her employment doesn't work out, unlike Becky who had nowhere to turn.
A Little Princess was about finding resources within and choosing our behavior in hard times. Wishing for Tomorrow, aptly named, seems to be about marking time until everything works out.