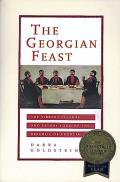 Subtitle: The Vibrant Culture and Savory Food of the Republic of Georgia
In Georgian singing classes, we talked about the integral role of singing in Georgian feasts, or supras. However, this book only had a one-sentence aside about singing. The rest is a Georgian travelogue and recipe book. It seems that different travelers focus on different aspects of their experiences.
The book gave me a sense for Georgian geography and culture, and would be useful if I wanted to take up Georgian cooking.