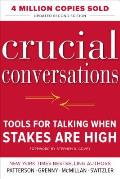 Subtitle: Tools for talking when stakes are high
Recommended to me by: Pair Programming is Built on Crucial Conversations
The first chapter made me wary, trying too hard to convince me that dialogue is important. I already knew that. But then the book started offering new ideas.
Crucial conversations have opposing opinions, strong emotions, and high stakes. It's important to notice when one is happening.
We don't have to accept the Fool's Choice: stay silent or create a blow up.
The first goal is to fill the pool of shared meaning, encouraging everyone to share their facts and opinions. Important questions:
What do I really want for myself?
What do I really want for others?
What do I really want for the relationship?
When someone becomes silent or violent, they no longer feel safe. The goal changes to increasing safety. Notice how people are responding, not just the content of the conversation. Silence: masking, avoiding, withdrawing. Violence: controlling, labeling, attacking.
Safety requires mutual purpose to start the conversation and mutual respect to continue it.
Do others believe I care about their goals in this conversation?
Do they trust my motives?
Do they believe I respect them? (Look for ways we are similar.)
To fix safety: apologize, contrast misunderstandings with actual purpose, create a mutual purpose.
Question your stories, start with facts, state interpretations tentatively, encourage the other person to add their viewpoint. Ask, mirror, paraphrase, prime/guess. Why would a reasonable, rational, decent person act that way?
Decide how to decide: command, consult, vote, consensus. Who cares? Who knows? Who must agree? How many people is it worth involving? Who does what by when, followup.