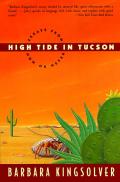 Subtitle: Essays from Now or Never
Recommended to me by: Donna Smith
When I first read this book of essays years ago, I became so absorbed that I missed my transit stop. I continued reading on a high, windy platform as I waited to catch a train returning in the other direction. I picked it up again from a friend's bookshelf while snow-bound in DC. It is still absorbing – I read it in afternoon.
Barbara Kingsolver writes about a hermit crab she accidentally brought home from a beach to Tucscon, and how it maintained rhythms of activity and hibernation far from any tides. The theme of rhythms weaves through the book, including not-knowing times in her life, desperation and despair, and finding her way out again.
I remembered her two-year old deliberately knocking over her glass of orange juice, to her harried dismay, and the resulting meditation on autonomy and the need for slow time. This time I noticed the clear acknowledgements of racism and sexism in our culture.
There is a lovely interlude about her stay in the Canary Islands. People there genuinely like children, rather than grudgingly tolerating them the way United States culture does. She also feels safe walking alone at night there.
Highly recommended.