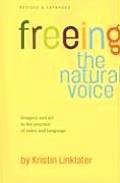 Subtitle: Imagery and art in the practice of voice and language
Recommended to me by: Nadia Tarnawsky
This book is aimed at actors, but also has useful information for singers, although the one aside about Bulgarian singing does not match what I have learned about that art. And that leads to my summary of the whole book, which is that it is very detailed and knowledgeable within its scope, but does not acknowledge lack of expertise in neighboring realms.
There are many exercises to get in touch with the anatomy of the breath and voice in the whole body, and to release inhibitions that get in the way of free breath and voice.
The only explanation offered for inhibitions is "The young child desperately wanted a cookie and was required to ask in a nice voice, so had to separate voice from emotion." There is no mention of physical violence, sexual abuse, or neglect that would cause a person to separate voice and emotion.
There is no awareness that reconnection needs to go slowly, with support, and that "resistance" is a clear message to slow down even more. There is one brief mention half-way through the book about working with "light" emotions in the exercises because "dark" emotions might require more support. I wonder how many of the author's students had overwhelming reactions to these exercises.
Similarly, there is no mention of physical injuries or disabilities that might get in the way of doing these exercises, and no offered accommodations or workarounds.
I appreciate the idea of inviting a sigh of relief, and then observing with the breath and voice do with that. Rather than trying to control the breath and voice, we can allow the body to respond to what we experience and want to express.
The book could benefit from anatomical drawings, since it is based in very specific and detailed anatomy that is only described in text. There are cartoon-like line drawings showing people doing some of the exercises.
Recommended for people interested in the details of embodied voice, with the above caveats.