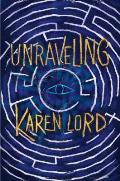 Recommended to me by: James Davis Nicoll
A murder mystery is being unraveled by supernatural beings with human allies. Not at all my sort of thing, but it's a followup to Redemption In Indigo so I gave it a try. Unlike that book, which started off slowly for me, this one pulled me in immediately and I read it all in one sitting.
It tackles some serious topics along with the fast-moving plot. A class system that values land owners over everyone else. Paying attention to who matters and who doesn't. Adjusting to disability, with a lot of support.
I enjoyed the ride! Stepping back, I didn't quite follow some of the twists and turns of causality in the plot, and I'm not sure I agree with some of the deeper implications.