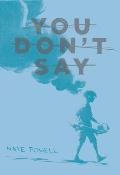 Subtitle: Collected Stories
Recommended to me by: a friend
This collection of short story out-takes in comic form was recommended to me for "Cakewalk," about a white girl who dressed in blackface for Halloween, and "Like Hell I Will," about the 1921 arson and massacre of Tulsa's "Black Wall Street," a prosperous Black community. Tulsa race massacre on Wikipedia.
The Midwestern girl in "Cakewalk" is unaware of her transgression. She wants to be loved like Aunt Jemima, and doesn't understand why the adults around her are horrified. No one explains it to her, even while she's told to wash the charcoal off her face.
"Like Hell I Will" lays out the terrible, shameful history of the Tulsa race massacre. It is well-told and well-drawn, and at the same time minimized by its inclusion in this compendium of much less serious vignettes from white people's perspectives.
Nate Powell is the illustrator for "March," John Lewis's autobiography in graphic novel form. That might be a better introduction to his work than this collection, which starts with comics drawing from his own life as a rootless young white man in the punk scene.