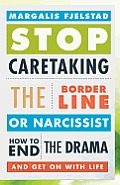 Subtitle: How to End the Drama and Get on with Life
Recommended to me by: a client
A clear analysis and set of tools for bringing your energy back to yourself when you have been wrapped up in caretaking someone who is volatile and focused on themselves. In the book, persistently difficult people are labeled as narcissists or borderlines, or BP/NP for short. I have hesitations about casually throwing around psychological diagnoses and prefer to focus on problematic behaviors, such as the inability to see others' point of view.
Accept that the difficult person will not suddenly become empathic and considerate. Move out of the drama triangle (persecutor, rescuer, victim) into the caring triangle (assertiveness and doing, caring and choice, acceptance and self-responsibility). I like having a clear alternative to the drama triangle. Practice saying no, disengaging from arguments, and saying what you want. Take concrete actions to make your life better, possibly including ending or severely curtailing the relationship.
Recommended for anyone fed up with the caretaker role in relationships with persistently difficult people.