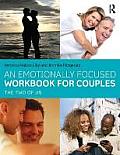 Subtitle: The Two of Us
Recommended by: David Mitchell
I love the diverse couples on the cover of this book. They create a sense of inclusion and emotional safety right away.
Sue Johnson introduces Emotionally Focused Therapy (EFT) in "Hold Me Tight." EFT assumes that adult attachment is natural and normal, and that it makes sense that we feel terrible and protest loudly when our attachment bonds feel threatened.
This workbook kindly and carefully works through the steps of creating emotional safety in a relationship. Clear explanations alternate with questions that invite self-reflection and partner communication. Topics include: cycles of relationship distress, attachment bonds, past influences, emotions, how we feel now, more about difficult emotions, security, rebuilding our bond, repairing relationship injury, stories of change, maintaining intimacy and revitalizing your sex life.
For example, the chapter on emotions asks, "In my family or previous relationships… What messages did I get about experiencing and expressing emotions?" In my family, emotions were never a topic of discussion. I hadn't consciously noticed that before.
Highly recommended! Useful as an adjunct to couples therapy, or on its own. Each question takes time to answer and process, so this is a workbook to go through slowly and gently.