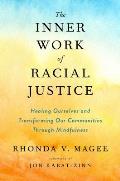 Subtitle: Healing Ourselves and Transforming Our Communities Through Mindfulness
Rhonda V. Magee is a Black woman law professor at the University of San Francisco. She has studied mindfulness in depth, and uses it to get through difficult conversations about race with students as well as live with ever-present microaggressions. She teaches mindfulness to help people pause before reacting, increase inner tolerance for strong emotions, and to stay connected with themselves and others.
The first half of the book very gently and slowly encourages the reader to admit that racism exists and might be part of their lives. This is the opposite of Layla Saad's direct approach in Me and White Supremacy. I can see that different approaches work well for different people.
The strongest message of the book is that we need to stay in mindful, non-violent conversation with each other (and ourselves) about race. Not until the last chapter does she add a caveat about retreating from people who threaten violence. I would add a second caveat about people who are simply not listening or engaging in good faith. Most of her examples include students or workshop participants who have chosen to learn from her, or community members who have an existing motivation to stay connected.
With the addition of those caveats, I agree that we are all in the racist soup together, each learning at our own pace, and we can do our best to be kind to people who are not as knowledgeable as we are, just as more knowledgeable people continue to be kind to us. I wanted to see more about reaching one's limits and reacting with anger and frustration. There is a place for that, as well as a lot of good work to be done in the world with mindful listening.
Highly recommended for people who are new to anti-racist work, or new to meditation, but not both. I think it would be difficult to learn both from a book at the same time. I have some experience with both and the pace felt slow, but I still got a lot from the book.
Meditations and articles at Rhonda V. Magee's website