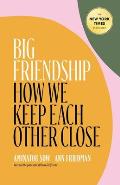 Subtitle: How We Keep Each Other Close
Recommended to me by: Body Impolitic
Aminatou Sow and Ann Friedman name the difficulties of putting words to their friendship, and then as the professional writers they are, they go ahead and do it. I was worried that this book would be superficial or didactic, or both, but instead it is an engagingly told story with depth and detail, along with engagingly presented research into maintaining friendships.
They name Big Friendship, Shine Theory (invest in helping people shine rather than competing with them), and the friendweb they create together. They don't shy away from discussing the hard parts of an interracial friendship.
They talk about stretching to maintain a friendship, and the difficulties of evaluating when stretch becomes strain, and what to do when the stretch feels unequal or too much.
They talk about Deborah Tannen's term "complementary schismogenesis" (originally from Gregory Bateson) when two people get further and further apart as they try to model what they want from the other person, like one person talking louder and louder and the other talking quieter and quieter rather than asking the other person to speak up or speak more softly.
They reference For the White Person Who Wants to Know How to Be My Friend by Pat Parker.
Ultimately they went to couple's counseling and learned to talk about their differences as well as the ways they are the same.
Highly recommended.