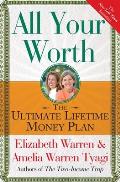 Subtitle: The Ultimate Lifetime Money Plan
Recommended to me by: Lis
This is a practical, down-to-earth book written in a warm, reassuring style by a mother-daughter team. The authors know that most readers will have a great deal of anxiety about finances, so they try to settle that first thing.
Their plan:
From your total income after taxes
50% Must-Haves
30% Wants
20% Savings
The goal is to get finances running smoothly so that they can be in the background rather than the foreground.
Their plan makes sense to me, which means it's congruent with the financial advice I absorbed growing up. Minimize debt, even for a mortgage. Reduce recurring expenses as much as possible. Shop carefully for insurance, since it's essentially betting against yourself. Saving is important. And, as I have learned over time, it's important to have fun and enjoy life, too.
The plan is based on having a salary, so I've been thinking about how to apply it to a sole proprietor business. I think I'll have to add a second set of categories for the business, and guesstimate the taxes as a straight percentage of income. Still, it seems useful enough to me to be worth going to the trouble of figuring out what my Must-Haves are.
They say Must-Haves are recurring expenses that you can't put off for six months. Anything else goes into Wants. I think that blurs expenses for maintenance for the house and yard and business. Those can be delayed, but not put off forever. I might add a sub-category for that under Wants and see how much room it takes up. It's also unclear to me where major expenses like a new roof fall. You save up for them, and they're optional for a while until something goes wrong and suddenly they're a Must-Have.
The book was published in 2005, and they have the same cheerfully optimistic advice about the stock market that I received with my first 401k in 1991. After losing my first chunk of retirement savings in the dot-bomb of 2001 and then watching my socially conscious investments stagnate, I no longer think the stock market is a viable savings strategy for socially conscious investors. I haven't come up with a good alternate strategy, however.
I've also seen the rule, 10% of after-tax income for charity and making the world a better place. I was surprised not to see charity brought up anywhere in this book. I suppose that falls under Wants, but to me it seems like an important category. They wanted to keep things very simple.
The last section of the book is about planning for financial emergencies – job loss, serious illness, etc. Plan which Wants to cut first. Plan how to reduce Must-Haves if becomes necessary. It even has a section on how and when to declare bankruptcy.
Recommended for a practical, reassuring way to think about your finances.