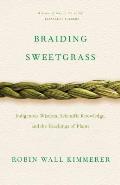 Subtitle: Indigenous Wisdom, Scientific Knowledge and the Teachings of Plants
Recommended to me by: Amy Bennett
A set of essays loosely tied together in chronological order, with themes of sweetgrass and braiding all the way through. Each essay braids together personal memoir, Native American (specifically Potawatomi) ways of living, and colonialist ways of living.
Potawatomi ways developed over generations as people saw what works to live in balance with nature, as a part of nature. Humans are considered the young ones, the newcomers, learning from their more experienced plant and animal family members.
Sweetgrass is harvested in specific ways. Not the first plant you find, because that might be the only one. Take only what you need, up to half of the plants there, either by cutting half of each bunch, or taking whole bunches. Robin Wall Kimmerer is a Professor of Botany, and one of her PhD students showed in a set of careful experiments that sweetgrass thrives when harvested this way, and fails to propagate if it is left completely unharvested. Humans and sweetgrass have a cooperative, collaborative partnership.
White colonialists disastrously interrupted Native American ways of living by stealing Native Americans' lands and pushing them into entirely different ecosystems, and by taking their children to residential schools and forcibly preventing them from speaking their own languages or practicing their spirituality. The Potawatomi people and other tribes are gathering together the fragments of what remains, and braiding them together anew.
The book ends on a hopeful note, that perhaps enough of us will turn toward collaborative, cooperative ways of living that we will not entirely destroy the ecosystems of this green earth. Fitting right in with that hope, the current Great Pause of this pandemic gives us time to consider what we want to add back in to our lives, and what we want to leave behind to allow cleaner skies, safer streets, and more sustainable lives.
I read this as an ebook, because that's what I can get from the library in this time of pandemic. It's an odd way to read a book so rooted in physical experience, and I would have much preferred to have a physical book in my hands. This is a long book that wants to be appreciated slowly, essay by essay, section by section, exploring how all the parts fit together to support each other.
Highly recommended!
Robin Wall Kimmerer: 'People can't understand the world as a gift unless someone shows them how' interview by James Yeh, May 23, 2020