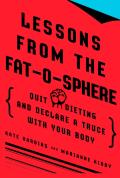 Subtitle: Quit Dieting and Declare a Truce With Your Body
Recommended to me by: Kate Harding's blog post The Fantasy of Being Thin
The introduction begins:
"Did you ever notice that the very same magazines that tell you each and every month how to lose weight, burn more calories, fight the flab! […] will turn right around and tell you to love your body? And then, adding insult to injury, tell you that confidence is the sexiest thing in the world?

And did you ever just want to light every one of those magazines on fire?

We're right there with you."
The whole book is like sitting down to tea with chatty, warm, kind friends who eagerly share their smarts and personal stories because they care about you. It's a delight to read.
First they work through the evidence that diets simply don't work. Even if you call them "lifestyle changes" or a spiritual practice, food restriction does not result in sustained weight loss over 5 years for 95% of people.
They introduce Health At Every Size (HAES) – making the best choices you can for food and movement at whatever size your body likes to be.
They briefly address depression and its compounding effect on negative body image and advocate for seeking treatment for ongoing depression symptoms.
They encourage finding body-positive doctors because you deserve good healthcare at every size, and "you should lose weight" is not healthcare. Also body-positive friends, because why hang out with people who subtly or overtly put you (or themselves) down all the time.
To find new friends, and replace all the time spent dieting and obsessing about food, try out new hobbies.
And more! Highly recommended for anyone who struggles with body image.
Kate Harding's blog (archived)