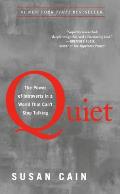 Subtitle: The Power of Introverts in a World That Can't Stop Talking
Recommended to me by: Leah K. Walsh
This is a carefully researched, well written, engaging book that says, "Introverts really are good enough!" Since I didn't go in doubting that, I felt off-balance as I read, especially since I thought it would be a book about small business marketing for introverts.
From the summary at the end:
This book is about introversion as seen from a cultural point of view. Its primary concern is the age-old dichotomy between the "man of action" and the "man of contemplation," and how we could improve the world if only there were a greater balance of power between the two types. It focuses on the person who recognizes him- or herself somewhere in the following constellation of attributes: reflective, cerebral, bookish, unassuming, sensitive, thoughtful, serious, contemplative, subtle, introspective, inner-directed, gentle, calm, modest, solitude-seeking, shy, risk-averse, thin-skinned. Quiet is also about this person's opposite number: the "man of action" who is ebullient, expansive, sociable, gregarious, excitable, dominant, assertive, active, risk-taking, thick-skinned, outer-directed, light-hearted, bold, and comfortable in the spotlight.
The book starts with the story of Rosa Parks refusing to get off the bus, celebrating her for doing it in a quiet, unassuming way, without saying that racism required someone exactly like that for her role. It does come back to her story later and say that she was already trained in nonviolent resistance.
There are historical portraits of Eleanor Roosevelt, Dale Carnegie, and Steve Wozniak. Interviews with students at Harvard Business School where everything is done in groups, noting how influential the graduates are. Scientific studies involving tormenting monkeys to see the effects of a gene for processing serotonin. (No one seems to note the problems with animal research in books like this.) Other studies showing that group brainstorming is not as creative or innovative as people working alone, unless it's done online. A longitudinal study showing that babies who are highly reactive tend to become introverted kids and adults.
There is a big emphasis on spouses and "mates." It's okay that the introverts were unpopular in high school, because of how happy they are with their mates and kids now. The vast majority are heterosexual. I vaguely remember mention of a gay couple, but it went by fast, in contrast with the extensive profiles of several heterosexual couples.
Gender roles are never overtly discussed, but it feels like this whole book is struggling with what it means to be a good valued person without having qualities traditionally valued in men (see the quote above about men of action).
If you feel defensive about being an introvert and care about the world of influential people, this might be the book for you.