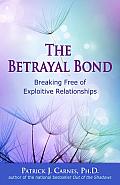 Subtitle: Breaking Free of Exploitive Relationships
Recommended to me by: Marie
This book was originally published in 1997, over 20 years ago. I read an edition published in 2019 which had been updated to include references to social media, but which still contains outdated models of trauma, attachment, and blaming the individual for societal patterns.
The book was groundbreaking when it was published in acknowledging that traumatic bonds exist and many people suffer in manipulative and abusive relationships. Those relationships are difficult to leave for a multitude of reasons. Some of them are internal, and the book addresses those. Many of them are external, where people have no other way to get their basic needs met, or feel trapped because society is tipped toward believing and rewarding abusers.
Patrick Carnes specializes in treating addictions and compulsions, especially sex addiction, and the book is based on that model.
He accepts Stockholm Syndrome as a real diagnosis, even though it has been discredited as a victim-blaming invention. See The Myth of "Stockholm Syndrome" and how it was invented to silence Kristin Enmark by Barbara Roberts.
Oddly, the psychiatrist who coined the term "Stockholm Syndrome" never spoke with Kristin Enmark. Neither have present day experts who present misinformation and perpetuate the myth.
More information: The myth of "Stockholm Syndrome" presentation by Allan Wade.
Kristin Enmark was responding to both the hostage takers and a disorganized and dangerous police-state responses, while protecting and keeping solidarity with her fellow captives.

As a 23 yr. woman, Kristin showed extraordinary presence of mind and
determination throughout the ordeal (not infantile regression).

Kristin criticized the police and state response and refused to speak with Nils
Bejerot, who had refused to speak with her during the hostage-taking.

Nils Bejerot, who directed the police response and was in an obvious conflict of
interest, invented "Stockholm Syndrome" to silence Kristin Enmark.
Patrick Carnes also blames the victims of the Jonestown Massacre instead of understanding that they were coerced and trapped. See Coerced Suicide: The Jonestown Deaths, Suicide Bombings, and Beyond by Adam Lankford, Ph.D.