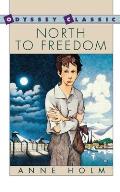 This is one of the books I've carried from place to place since I was a kid. I took it down from the shelf to see if it was time to pass it along, and ended up reading the whole thing. I didn't remember much about the plot, but a few fragmentary scenes had stayed with me. It was published in 1963 in Danish, and translated into English in 1965.
A twelve-year-old child named David has been raised in a concentration camp, escapes with the puzzling help of the Commandant, and is now crossing Europe alone to get to Denmark. He is sturdy, quick-witted, and speaks several languages, having learned them from various fellow prisoners.
The writing is emotionally authentic without trying to terrify the reader. David talks about his fear, and also how he has learned to calm himself. He passes through hope and despair. He learns to be more present in his body, and connects passionately to the beauty of the land around him. He also connects tentatively, warily, with other humans.
People see him with compassion and help him on his way, and also see the strangeness in him. With his mix of social ignorance and calm self-possession, it's obvious he hasn't had a normal childhood.
In passing, David is noted as a rare name, which was surprising since it has been in the top 35 names since 1880 in the US, and was ranked first in 1960. I have been in a mid-size software engineering organization that literally had more Davids than women. Apparently it was less popular in Denmark in the 1960s.
When I last read the book, I was around David's age, and simply accepted the plot. Now I see the underlying social and religious messages (added with a light hand), and the overall metaphor for healing from abuse and reconnecting with people.
David values intelligence and devalues people for being "stupid." I could see a twelve-year-old boy having that attitude, and I wish the author had made it clear that intellectual ability does not correlate with intrinsic moral value. There is also some borderline fat-judgment. David tends to see people as all bad or all good. The plot does engage with the ambiguity of people who are both.
Highly recommended, despite those caveats.