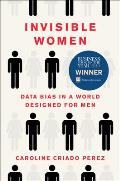 Subtitle: Data Bias in a World Designed for Men
Recommended to me by: Dave C
This is an engagingly written, data-driven compilation of all the ways women are left out of important scientific and civic decisions, to our serious detriment. Often data isn't even collected in a way that shows relevant differences between men and women. Men are considered the default, "typical," "normal" person, while women (51% of the population) are the atypical awkward exceptions. It includes language (does "Man" mean everyone, or not?), budgeting decisions, bathrooms, safety equipment design and size, public transit, cleaning chemicals, medical treatments, political expectations and judgments, etc.
Despite its calm, matter-of-fact tone, it is infuriating to read.
I usually don't add books here that I haven't read in full, but I want to keep track of this one as a reference and highly recommend it even though I don't have the emotional stamina to read it now.