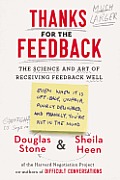 Subtitle: The Science and Art of Receiving Feedback Well (Even When it is Off Base, Unfair, Poorly Delivered, and, Frankly, You're Not in the Mood.)
This book is surprisingly clear and helpful. It talks about how to listen for and clarify the underlying message, how to sit with whether some or all of the message is useful, and how to discern when the feedback dynamic itself is a problem.
As Kate Heddleston wrote in Criticism and Ineffective Feedback, women and other underrepresented groups in tech jobs get subjected to a lot of unwarranted and biased "feedback" about being too abrasive and not assertive enough, too friendly and not nice enough, too pushy and not contributing enough. Homa Mojtabai covered the can't-win expectations succinctly in the McSweeney's article Reasons You Were Not Promoted That Are Totally Unrelated to Gender.
I was expecting this book to pile on even more unmeetable expectations, but it is balanced and thoughtful instead.
There are three kinds of feedback, appreciation ("that's great!"), coaching ("here's how to do it better"), and evaluation ("here's how you measure up"). Pay attention to which kind you're getting, and which kind you need more or less of.
First seek to understand. Rather than arguing with everything that's obviously wrong about the feedback, seek to understand better what the speaker means, needs, and wants. When given generic labels, ask for specific examples and requests. Be open and curious, and also share reactions like, "That's upsetting to hear." "That's not how I see myself."
Feedback can illuminate our blind spots. None of us can see how we look and come across to others. Feedback can give us information about how others see us, which is not necessarily how we are or intend to be, but is still useful information even when heavily mixed with others' biases.
"Switchtracking" is starting a second conversation about a relationship ("how dare you bring that up when you…") in the middle of a feedback conversation. Name that there is a second topic, and keep it separate from the first. The feedback might be a cover for a relationship issue too.
Identify the relationship system – take 3 steps back. 1) Look at the intersection between the two people, rather than trying to make one person or the other "the problem." 2) Look at clashes in roles. Are roles clear and agreed to by both people? 3) Look at the bigger picture – other people, structures, policies, the whole environment. Looking at systems reduces judgment, enhances accountability (how our choices interact with the system), and uncovers root causes.
Wiring and temperament and past trauma affect our responses to feedback. Some people are more resilient in the face of negative feedback, and require less positive feedback.
Boundaries around feedback are crucial. We get to discern and choose what is healthy for us. Three boundaries: "I may not take your advice." "I don't want feedback about that subject right now." "Stop, or I will leave the relationship." Some signs that boundaries are needed: feedback attacks character, not behavior. It is unrelenting. There is always a new feedback topic. We can turn away feedback with grace and honesty. When appropriate, problem-solve with the other person around the decision not to change (or inability to change).
In response to feedback, add what's left out, ask what matters to them, take a step back to reframe when needed.
Cultivate a growth mindset, and make choices about when and how to change. Don't pretend to change, or make a superficial change when the request is about underlying attitudes. In the face of a flurry of feedback, choose one thing to focus on whenever possible.
Recommended!