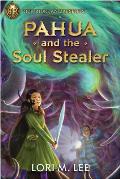 Recommended to me by: Marissa Lingen
A delightful adventure story based on Hmong legends and spirituality with two eleven-year-old Hmong girls as the heroes, Pahua and Zhong. Pahua can see all spirits, which is unusual even for shamans (does the Hmong culture use the word shaman?) and has a companion spirit in the shape of a black kitten, named Miv, which means cat. Zhong is on assignment from her shaman school. There are battles, but no lives tossed away casually. Compassion and successful negotiation get them further than fighting.
The glossary at the end includes pronunciation of Hmong terms used in the story, and the afterword shares Lori Lee's history as a Hmong refugee who resettled in the US and struggled to fit in, as Pahua does.
Highly recommended.