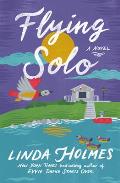 Recommended to me by: lightreads
Lovely atmospheric book set in a coastal Maine town with a main character who is a single woman and likes it that way. Mostly cozy and fun, although there was one scene with intense gaslighting where I had to skip a couple of pages to continue reading.
Now that I think back on it, I didn't notice any LGBT characters at all. The great-aunt should have turned out to be a lesbian the whole time! There was a Black woman minor character who said from off-stage, "You know I don't go places where my presence increases the Black population by over 10%."
So, a light, fun read if you're white and straight, or don't mind reading a book about white, straight people. I read it as an ebook from the library, and it was well-suited for that.