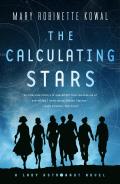 Recommended to me by: Marissa Lingen
Elma York is a math whiz with a Ph.D. in math and physics now working as a computer (as in, one who computes) for the space program in the US in the 1950's. She deals with run-of-the-mill, life-is-just-like-that sexism, and also I'm-out-to-get-you intentional harassment. By the way she's also a crack pilot who can land a plane after the motor goes out.
She's also married to the lead engineer of the program, and they have a lovely supportive passionate relationship. She has a supportive relationship with her brother, too. I find myself reading for supportive relationships these days.
Also they are both Jewish, and the book addresses both the positive details and the negative anti-semitism that arises from that. Also they stay with an African-American couple, and they learn to recognize their racist biases and notice when a group "just happens" to be all white.
This book is both old-time spaceflight science fiction, and modern inclusive science fiction, which means it grapples with all the ways that women and people of color are kept out, and still manage to succeed despite that. It addresses global warming and the lack of political will to do something about it. It addresses anxiety as an illness that deserves compassion and treatment. The world-building details are satisfyingly solid.
I was also a Jewish younger female student who was really good at math. (Not as good as Elma!) It feels good to see myself reflected in a book like this, even if I responded differently to the stresses of the situation and took a different turning in my life.
Recommended as a quick, exciting read that's both heart-warming and heart-rending in the ways it reflects minority and marginalized experiences.