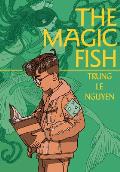 Recommended to me by: Soph
What a lovely, powerful graphic novel. Tien is growing up in the US with Vietnamese immigrant parents. He speaks mostly English, and they speak mostly Vietnamese. It's a close, loving family and they read fairy tales together when they have time. The graphic novel interweaves slant-wise takes on three familiar fairy tales with Tien's adventures in high school and as he struggles to communicate important truths about himself to his parents.
The art is gorgeous. Fairy tale dresses are especially elaborate, and the end of the book contains notes on the time periods the dresses are drawn from. The one thing I found confusing is that something about the proportions of the characters made them look younger to me. Tien looked like a much younger child, and his mom looked like his teen older sister, even though the story communicates that Tien is in high school and his mom is in her 30s.
The love in the book makes me cry, along with the difficult times around immigration and grief, conveyed with kindness. Highly recommended!
Content notes: brief homophobia, not endorsed by the author, and fairy tale violence.