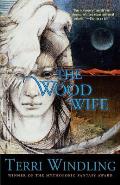 Recommended to me by: Tor.com
I read this book many years ago, and remember being disappointed, because it wasn't the kind of lyrical fantasy I was used to. Reading it again now that I'm older than the protagonist, I can see how skillfully relationships between the characters are portrayed. It's beautifully written and lovingly portrays the Sonoran desert.
And it's still not my type of book. It uses death and domestic violence as intensifiers, and the mystery is tied up neatly at the end, along with the characters' lives. While I agree with the author's message about the need to protect the natural world from endless cookie cutter suburban development, the lectures fall heavily from the characters' mouths.
This book is part of a four-book series inspired by Brian Froud faery paintings. "Something Rich and Strange" by Patricia McKillip also had an author's message that weighed heavily on the book. I've read the third book, "The Wild Wood" by Charles de Lint, but hadn't heard of the fourth book from the series, "Hannah's Garden" by Midori Snyder.