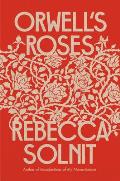 Recommended to me by: It's by Rebecca Solnit!
Rebecca Solnit starts from an encounter with rosebushes planted by George Orwell almost 100 years before, and expands with her usual grace and skill on his life as an essayist, activist, soldier in the Spanish Civil War, gardener, husband, and father. From there, she delves into his research into coal mining and its disastrous effects on the miners and on the environment; Stalin and his atrocities in the name of communism; Colombia's greenhouses growing roses for export, with disastrous effects on the growers and the environment; and many more discursions on roses, beauty, totalitarianism, and history.
She shows that Orwell balanced the darkness in his writing and worldview with a joy in the natural world. He grew much of his own food, in addition to roses, in rural England.
Sometimes [Orwell] celebrated what was meant by the roses in "bread and roses": the intangible, ordinary pleasure, the joy available in the here and now. [Page 92]
Bread can be managed by authoritarian regimes, but roses are something individuals must be free to find for themselves, discovered and cultivated rather than prescribed. "We know only that the imagination, like certain wild animals, will not breed in captivity," Orwell declares at the end of "The Prevention of Literature." [Page 100]
Clarity, precision, accuracy, honesty, and truthfulness are aesthetic values to [Orwell], and pleasures. […] Clarity, honesty, accuracy, truth are beautiful because in them representation is true to its subject, knowledge is democratized, people are empowered, doors are open, information moves freely, contracts are honored. That is, such writing is beautiful in itself, and beautiful in what flows from it. [Page 231]
I read Nineteen Eighty-Four as a twelve year old on a ten-hour flight between New York and Tel Aviv, alternating between reading a few more horrifying pages and staring blankly at the 747 bulkhead. I have avoided George Orwell ever since, even though the last few years have proved him more and more prescient. Rebecca Solnit fills in the background of how he came to write such a dark book shortly before his death from tuberculosis at 46, and shows him as a whole, extraordinary person.
Recommended to anyone who wants to be a better, more informed citizen of the world.