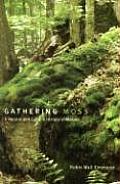 Subtitle: A Natural and Cultural History of Mosses
Recommended to me by: Reading Braiding Sweetgrass
A lyrical series of essays that weave together fascinating details about mosses and stories about Robin Wall Kimmerer's life. She is an extraordinary storyteller.
Mosses are the most minimal plants. They survive by carefully funneling and holding onto water when it is available, and drying out without dying to await the next rainfall.
Mosses vary tremendously in shape and habitat. They match at a micro level the macro level of rainforests. Some mosses grow together with the old growth trees they drape along, and will not regrow if the moss is torn away. Some mosses persist along city sidewalks and buildings all over the world. Indigenous people use mosses where water absorbency is needed.
Highly recommended!