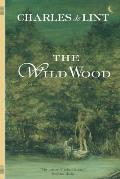 The Wild Wood is part of the same series of books based on Brian Froud's illustrations as Something Rich and Strange.
Charles de Lint is a well-known fantasy author, but the writing in this book is distractingly amateurish, with overly detailed descriptions of people's clothes and exact measurements of snowfall, along with cardboard characterizations.
For example, the main character Eithnie is described as "spacy" several times without context, possibly to make it more plausible that she twice forgets plans with her friend Joe as she's swept along by the plot. Joe himself is defined by his Japanese heritage as being both inscrutable and magically able to be in the present moment.
I found the ending anti-climactic as well, and wished Eithnie's skills as an artist could have played a bigger role.
The book is out of print in the original illustrated hardcover edition, but is available at Powell's Books as a trade paperback.