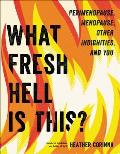 Subtitle: Perimenopause, Menopause, Other Indignities, and You
Recommended to me by: Captain Awkward
This book is for anyone with a uterus who is moving toward or in menopause, whether due to aging or medical procedures. Heather Corinna's writing is funny, profoundly inclusive, and tends to run long, as seen on her teen sex ed website Scarleteen. She likes to cover all the possibilities and include all the possible disclaimers.
She writes about the history of how menopause has been perceived and treated (or not) in the past, mostly by men. She interviewed experts (mostly women, many BIPOC) on a variety of topics and includes quotes from them, opening up a cornucopia of further reading.
She makes self-care suggestions along with compassion for their difficulty. She acknowledges the irony of recommending better sleep to help with hot flashes which often disrupt sleep. Stress and trauma tend to worsen perimenopause effects, adding another reason to reduce stress and work on healing trauma.
She covers both negative and positive effects of menopause. Contrary to popular myth, it does not bring life and love to an end. It does prompt an evaluation of what is and isn't working in one's life and can lead to sweeping changes.
Highly recommended to anyone who might walk this road or knows someone who is walking it.