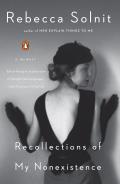 Recommended to me by: Reading her other books, and her talk at Powell's Books on zoom with Jia Tolentino on March 9, 2021.
Rebecca Solnit is a powerful, clear, lyrical writer. I thought her memoir might be literary and opaque, but instead it is luminously down to earth.
It contains brief descriptions of violence against women as she describes her ongoing dread that one day she would be the target. She shares the process of finding her voice amid the pressure to remain silent and unheard as a woman.
She describes living in a lovely studio apartment in San Francisco for 25 years, and the gentrification she witnessed in her neighborhood over that time. She invites us along on her widening explorations of the western US and the connections she made with environmentalists, anti-nuclear protestors, and Native Americans defending their land.
At the end of the book she comes back around to violence against women, and the writing of her explosively popular essay Men Explain Things To Me, which inspired the term "mansplaining." She points out that the #MeToo movement was a tipping point built from many women speaking up and gaining power and gaining allies. We don't know what may follow from our small actions against big problems. Keep taking the small actions that are available to you.
Highly recommended.