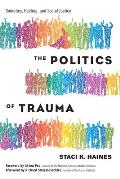 Subtitle: Somatics, Healing, and Social Justice
Recommended to me by: Darryl C.
This book rang true to me from beginning to end. Staci Haines combines embodied trauma work with social justice, and everything she says fits with what I already know and takes it further.
Many healing modalities view trauma and abuse as individual problems. Instead, Haines puts trauma and abuse in the context of our abusive social structures that put individuals in harm's way. White supremacy, patriarchy, capitalism, and environmental destruction divide us from one another and keep us from learning the skills we need to treat each other with care. They keep us divided from ourselves as we try to heal.
Safety, belonging, and dignity are core needs that should be met together for everyone. Traumatic and abusive situations put one in conflict with another – we can choose either safety or dignity, either dignity or belonging. Our bodies deeply learn traumatized ways of responding to the world.
We can form declarations and commitments: statements about our core beliefs and goals that guide our healing. For example, "I am a commitment to be in my skin without apology." (Lisa Thomas-Adeyemo) We can discover what commitments and declarations we have unconsciously adopted or had imposed upon us. Declarations can be personal or community-oriented or both.
We can find what supports us and practice resilience, reminding ourselves to come out of trauma mode. Social justice organizations can also collectively practice resilience. We can rebuild safety and trust at the embodied, physical level. We can relearn boundaries and requests.
To help someone heal, we blend with the patterns that are already true for them, and help them notice what the pattern has been taking care of for them. As the body is supported and honored, the underlying physical and emotional memories and holding patterns can be released. We can help someone feel allied with, exactly as their body needs to feel it.
For example, make a fist with one hand. With the other hand, try to pry it open. How does that feel? Instead, let your other hand support the fist with curiosity and kindness. How does that feel? What happens with your fist? With the rest of your body?
Trauma is held in the body through bands of tension, or absent slackness. A healthy body has relaxed presence. Somatic opening is encouraged by blending with what is there and allowing it to release and transform. While emotions often arise during a release, cathartic emotion is not the goal.
We can discern what shame is ours and what belongs to others. We can blend with shame, hearing its messages, and look underneath to what it is hiding or protecting. Often shame is preferable to feeling powerless, helpless, or abandoned. We can learn to take centered accountability rather than being over- or under-accountable for our actions. We can sit with the complex questions around our responsibilities. We can learn about forgiveness of others and self-forgiveness. "Even if … [shameful act or belief], I am forgivable."
We can learn to be present with ourselves and with others at the same time. We can learn to hold contradictions and conflict. We can learn how to have generative rather than destructive conflicts.
Personal healing and social justice organizing can support and serve each other.
I loved this quote at the beginning.
The Church says: The body is a sin.
Science says: The body is a machine.
Advertising says: The body is a business.
The body says: I am a fiesta.
—Eduardo Galeano, from "Window on the Body"
In the original Spanish:
La Iglesia dice: El cuerpo es una culpa.
La ciencia dice: El cuerpo es una máquina.
La publicidad dice: El cuerpo es un negocio.
El cuerpo dice: Yo soy una fiesta.
Highly recommended for activists and healers!