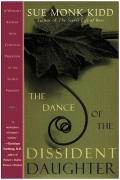 Subtitle: A Woman's Journey from Christian Tradition to the Sacred Feminine
Recommended to me by: Donna Smith
Sue Monk Kidd describes her awakening to the patriarchal values of the Baptist Church and Christianity in general. She describes her transformation in parallel with the myth of Ariadne as she claims the Sacred Feminine instead of an exclusively male spirituality. The writing is clear, evocative, and rich with references to other works, mostly written by women.
As Donna reminded me, the author isn't required to get everything right at once. She sees her submissive, secondary position, names it, finds a spirituality grounded in the feminine, and dares to speak truth to power. At the same time, she does not name the privilege that allows her to risk marriage and career (but ultimately lose nothing), and travel to Greece for inspiration.
By the end of the book, she notices a solidity and inner authority born out of her search. I believe this is the goal for each of us, to listen inside for the Sacred.