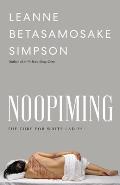 Subtitle: The Cure for White Ladies
Recommended to me by: RadiantFracture's series about Native authors
This book is woven together with brief recurring scenes and thoughts and symbols from eight main characters, plus some geese and raccoons at the end. The characters are Native Michi Saagiig Nishnaabeg in Canada, like the author.
Official synopsis:
Mashkawaji (they/them) lies frozen in the ice, remembering the sharpness of unmuted feeling from long ago, finding freedom and solace in isolated suspension. They introduce the seven characters: Akiwenzii, the old man who represents the narrator's will; Ninaatig, the maple tree who represents their lungs; Mindimooyenh, the old woman, their conscience; Sabe, a gentle giant, their marrow; Adik, the caribou, their nervous system; and Asin and Lucy, the humans who represent their eyes, ears, and brain.
The characters are formally introduced at the beginning, and then we see them up close as they go about their lives and interact with each other. Their lives weave in and around and through the invasive white people who have changed their world. The story is confusing on the surface, like a turning kaleidoscope, and makes a deeper kind of sense underneath.
Stories tell us how to live, how to see each other, how to care for each other. They point out when we are falling short. This book has layers of knowledge and wisdom that would reward rereading and study.
Recommended to take a step away from colonialism and toward Nishnaabeg ways of connecting with the world. The "cure for white ladies" in the subtitle is never directly addressed.