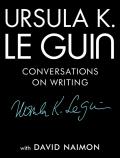 Recommended to me by: sturgeonslawyer
I read this because I will read anything by Ursula K. Le Guin, and alas there won't be more wise words from her to read. I feel her loss as an emptiness in the world where her steadiness and integrity used to be.
The book is an edited transcription of radio interviews with David Naimon of KBOO here in Portland, divided into sections for fiction, poetry, and non-fiction. It includes a few excerpts by Le Guin and others that she referred to in their conversations.
A short, choppy book, great for learning little bits about Le Guin and about writing and about reading and about life.