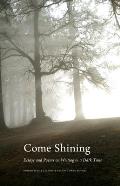 Recommended to me by: Tina Tau
I bought this book to read Tina Tau's essay about going to sea on a sailing ship in 2016 with an international group of novice sailors. Her essay is a meditation on what it means to be American and how we look to the rest of the world, watching our political disarray and increasing gun violence with compassionate eyes.
The book grew out of a writing group "On Writing in a Dark Time," with additional poems and essays from all over the country. The sections are "Facing the Darkness," "Reflection in the Dark," and "Finding Our Way Forward."
I liked the individual essays and poems in the book, and each one does not feel depressing on its own, but collectively they weighed me down. I kept wandering away from the book and then finding it again and reading a few more, which is why I'm only posting about it now at the end of 2018.
I've found that in conversations with people about the dark times we are in, we naturally find an alternation between worry about ongoing disasters, and appreciation of the small details of the present. I wish this book had more of that alternation.
Recommended in small bites for its lively personal essays and poems, many anchored here in Portland.